On the eve of departing for Italy, I decided to open up a bottle of an Italian red I stocked up on awhile back from the magnificent 1997 vintage. I first had this wine at Pallino Restaurant, when they had one in Woodinville, where it was selling for $18. At the liquor store, it was $12. Unfortunately, this is is (was) my last bottle.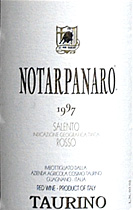 Here's what the back label had to say:
Notarpanaro is the name of one of our estates. It is also the name of our single vineyard, estate bottled red wine. Notarpanaro is made from a blend of two indigenous grapes, Negro Amoro and Malvasia nera. Tasting Notarpanaro will reveal an intense ruby red color, full rich flavors, and elegant feel on the palate, a sensation echoed by the smells which evolve in the glass. Notarpanaro is best served a cool 55 degrees F, as an accompaniment to flavorful, rich dishes, particularly meats and aged cheeses, or on its own as a wine for meditation.
We paired it with my standard spaghetti sauce, which is flavorful, but meatless, and includes lots of aged Parmesan and Romano cheese, which it complemented quite well. We did not attempt a meditation / wine pairing.
It reminded me a bit of a "baby Amarone" - rather full bodied, but somewhat less tannic and complex than a "real" Amarone (especially a 1997).
Here's what Robert Parker had to say:
"...exhibits a distinctive earthy nose of creosote, scorched earth, pepper, spice, black cherries and licorice...with abundant glycerin, power and richness..."
Here's what the Wine Lovers Page had to say:
Inky dark ruby color, almost opaque. An exotic mix of dark fruit and spice - plums, anise, hints of tarragon and brown spices - in a warm and approachable aroma. Full and ripe, black-fruit and anise flavors follow the nose; lemony acidity and smooth, barely apparent tannins segue into subtle licorice in a long finish.
Hopefully, during my upcoming travels, I'll discover a newfound (or newly expanded) appreciation for Italian wines - while Amarone is my favorite wine in the world, very few other Italian wines have made it into my favorites list. The Notarpanaro comes close ... but it's gone now.